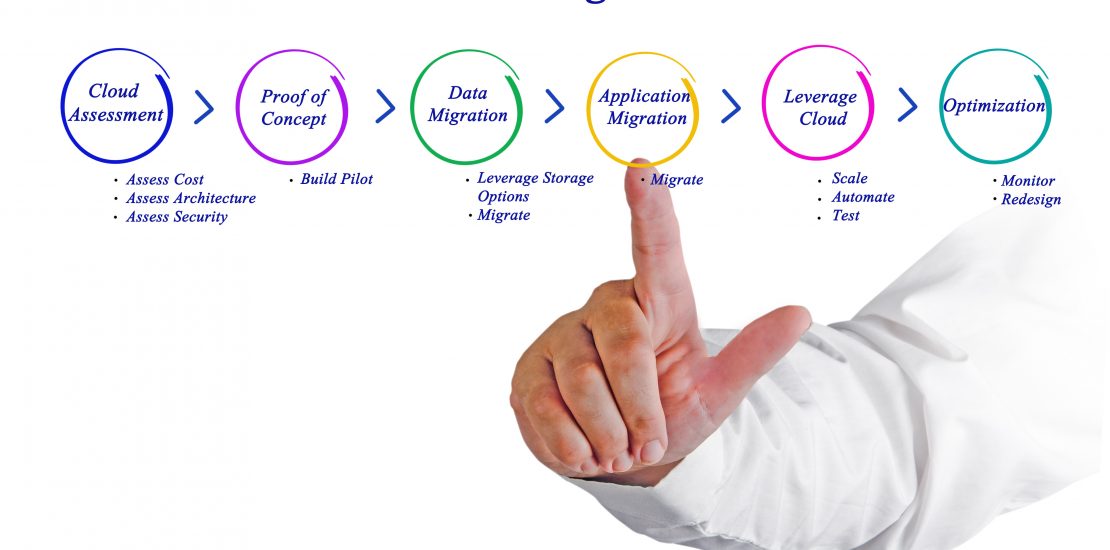 Cloud and Data Center Migrations
Acensys and its team have delivered multiple data center and private cloud migrations to Fortune 500 companies and have migrated multiple-hundreds of applications.
While we recognise that every customer is different and will have unique starting points and levels of operational maturity, we bring in a set of consulting capabilities along with our unique IP including artefacts ready to customise to your requirements such as RFPs, methodology, design documents, test plans, programme plans, and business cases.
We know how to set up and deliver not only the data centre / cloud migration projects but also the surrounding programme of change. We understand that often times, migration of applications to target destinations also includes major transformation in the way the applications and platforms are operated and changed. We are as comfortable to talk about and design application architecture as we are to talk about and design target operating models.
Acensys – we help companies assess their applications and readiness to migrate to the cloud, to select the appropriate target destinations (be it public, private or hybrid cloud) and to then drive the delivery and execution of the migrations and surrounding programme of change.
application cloud-readiness and migration assessment
Application Transformation Targets depend on a solid assessment of each application identifying key areas such as:
Total Cost of Ownership
Interdependencies to Other Applications
Supported & As-is Infrastructure
Software Components and Functional/Technical Roadmap
Business Use (geographically and functionally)
Client Access Requirements (Remote, Web, Volumes, etc.)
Data Volumes and Sensitivity (including archive requirements, etc.)
Interfaces
Network/Security Policies
Application Performance
Current Operating Model
Current Contractual Obligations
Middleware, O/S, Database and Other Platform As-Is and Alternate Compatibility
Once Assessment is Complete, a decision analysis is done to determine the costs and benefits of moving the application to the cloud.
business case for cloud transformations
Our clients are often surprised by our knowledge not just of the setup and ability to run migrations but also on our understanding of generating the business case to help justify the programme. Our business case templates include models whereby customers can project:
Benefits of refreshed aspects of the environment including:
Service Integration
Applications
DB/Middleware
O/S
Hardware
Network
Data Centre (power, space, cooling, etc.)
Pros / Cons of Private v. Public v. Hybrid Cloud and the elements of cost savings v. control that each delivers
Homogenized Release and Deployment, Batch Scheduling, Monitoring and ITSM Tool
Benefits of better standardization of infrastructure and security policies
Benefits of exiting current single source model (moving towards multi-source environment in a hybrid cloud)
Savings and benefits of increased agility and ability to innovate
Savings due to increased stability and scalability in a cloud environment
Capex and Opex Costs in the To-Be Environment
In summary, Acensys understands the entire value chain of your operation and can help you to justify the required spend to move the cloud.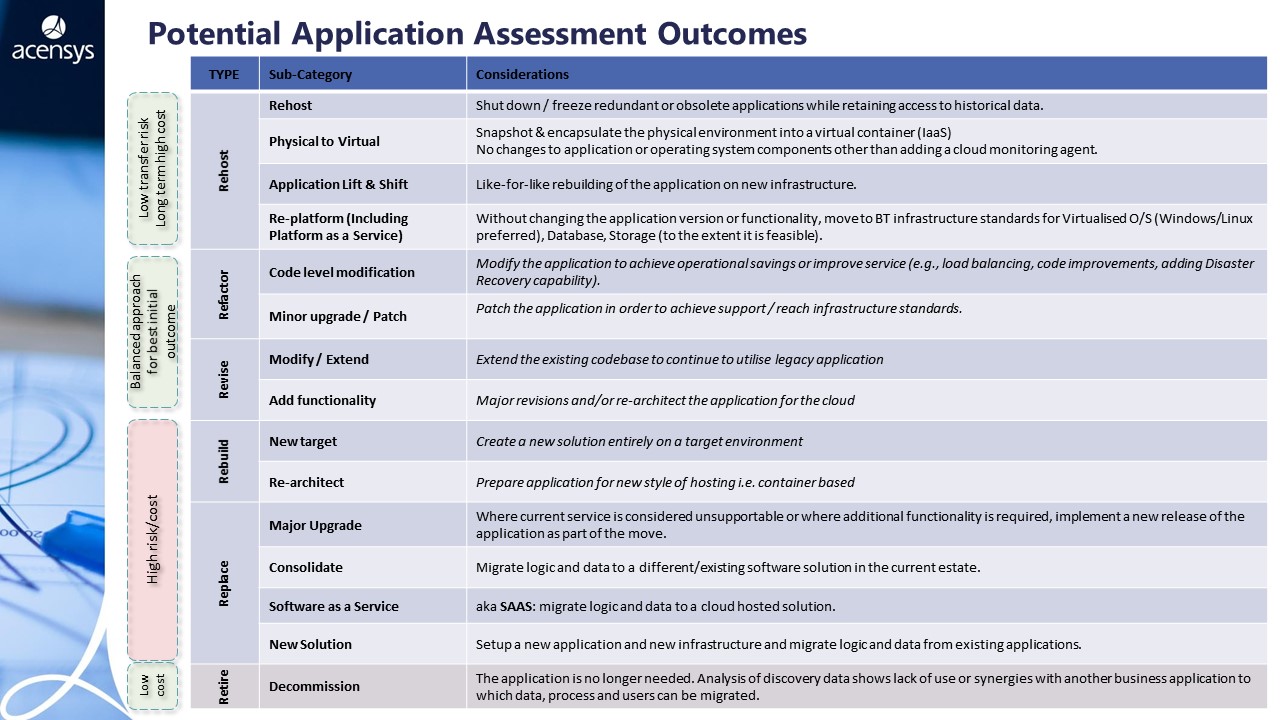 determining private v. public v. hybrid cloud
As part of determining the approach to migrate an application, one must consider which target destination is appropriate. Each customer is different with different cost models and drivers and policy. Some customers want to drive everything towards the public cloud but to other customer this is still seen as risky and they prefer a private and/or hybrid approach. Some key considerations are:
Budget – Small budgets generally drive to public cloud as private/hybrid cloud tend to have a high startup cost for hardware/software.
Security & Compliance – High complexity compliance models generally force decisions to private cloud. However, with public providers gaining industry certifications such as ISO, PCI-DSS, Sarbanes-Oxley the decision is shifting back to cost rather than risk.
SLA control – Transfer to public clouds often results in accepting an off-the-shelf SLA for a particular service. This is part of the service catalogue offered and is generally not negotiable. Organisations must decide whether to accept a different SLA regime or establish the service in a private environment.
Legacy Integration – There are sometimes situations where a solution is required to integrate to legacy systems but the benefits of public cloud are required for the main system. This often results in complex network planning or establishing an integrated hybrid environment of private & public clouds to service the business need.
setting up a cloud migration factory
Many customers have literally hundreds of applications to move. Setting up an industrialised migration factory is often the solution to industrialise the move to the cloud. If you are doing a major shift to the cloud, we can come in and help you and your suppliers set up an industrialised approach to move to the cloud.
Migration factories typically have the following service lines:
Discovery and Stakeholder Management
Application Migration Design and Move
Application Development Teams (experts on how to "plug in" to the customers chosen cloud capabilities)
Infrastructure Architecture and Provisioning
Testing
Operational Readiness
Service Management
The most imrotant thing that a migration factory can deliver is a reliable and safe way to migrate applications. By being industrialised and having a clear set of mitigations for typical risks, a factory approach can ensure the programme business case is fulfilled and committments to your business customers are met. The typical risks that a migration factory mitigates include:
Application Ownership (often complex in a large organisation)
Missing or Incomplete Documentation
Access to critical Third Parties
Access to source code, license keys and installation media
Support for software, hardware
Non-standard Hardware Elements
Compatibility with your standards
Remote access requirements
Missing Test Documentation
Hardcoded Configurations
Service Stability
Constraints around Change Control, timing, dependencies on other applications and teams
Complex Connectivity
Application Performance
Service Levels
Legal or Security Requirements