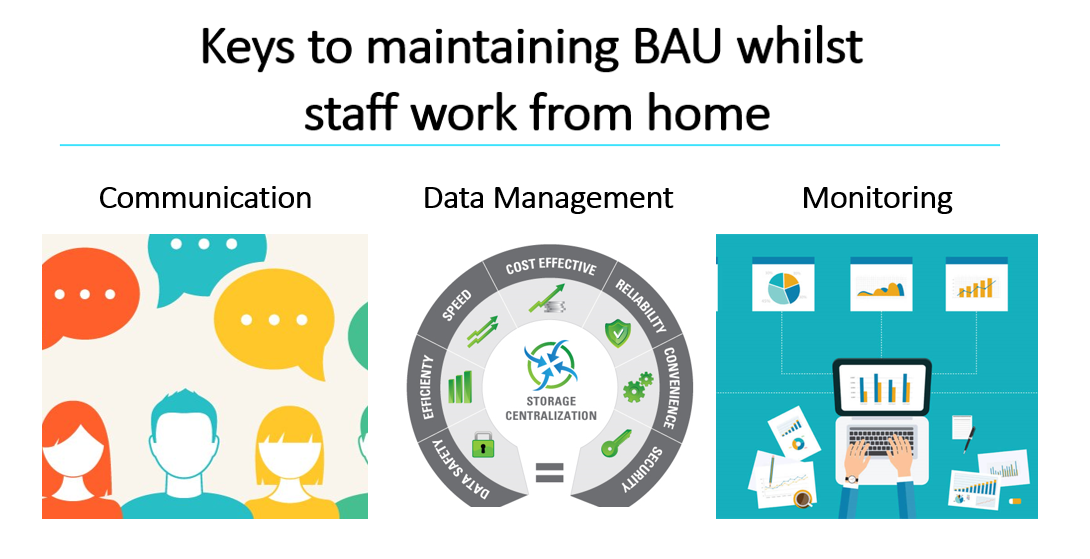 In 2020, there has been an unprecedented increase in staff working from home which was driven by the global COVID-19 pandemic. COVID-19 has in-discriminately affected every industry regardless of sector or business area.
Question: Was your organization able to adapt to forced working from home? Were policies and tools implemented swiftly and effectively so that operations continued as usual? … or was your organization finding it challenging to manage business as usual due to the new way of working? My assumption and personal experience was the latter.
COVID-19 has forced businesses to re-think their processes, policies and toolsets. I foresee an interesting conversation between senior management coming out at the end of this pandemic; What drove digital transformation within our organization? the CIO, new business ventures, pressures for cutting costs or increasing revenue? None of the above … it was the novel COVID-19 virus.
Working from home creates unique challenges for some organizations; leaders are often asked to stay in control of BAU tasks, but they may not necessarily have the tools or processes in place to directly manage what is going on. These times emphasize the need for organizations to be as agile as possible.
Challenges
Even the most well-crafted and thought out work from home policy has an adjustment period with a lot of challenges when first implemented; let alone a government mandated work from home policy. There are 3 main challenges managers can face if the impacts of a work from home policy are not properly managed.
1. Communication and Collaboration
The obvious thing that is lost whilst working from home is face-to-face collaborative meetings and ad-hoc spontaneous conversations among colleagues. This is often replaced by countless virtual meetings, IM chats and e-mails (Zoom, Skype, Slack etc) which does bridge the gap and allows your teams to stay in touch. The flip side is that it can create information overload. Information and files are being passed within teams through multiple mediums, making collaboration and decision making difficult to keep a track off.
Create Transparency
Managers need to understand what their team is working on, how much of the work is completed, approvals and if there are any issues that need to be addressed. Here is where a project management tool can help:
With all key communications being held within the tool itself managers have the information required to make critical decisions with out the need for excessive virtual meetings, constant IM's and playing e-mail ping-pong.

PPM tools enable transparency of informaiton between team members and team leads. Managers and project staff have all the information they require to make the next decision and no one can claim not to see a task, assignment or not know when something is due.
2. Data
A consequence of having dispersed employees is the transfer of data between teams using multiple digital mediums. For example, let's say a poster is being designed but needs to be collaborated on by multiple people including an approver. For example, a designer would create the draft and then send it by e-mail to the editor to work on it. The editor might IM the business stakeholder to confirm some information and then hold a Zoom meeting to discuss changes with the designer and after a bit of back and forth, request sign off. With this simplistic example we have passed data across 3 digital mediums without any track of the latest version or recorded decision being made thus creating de-centralized data and unreliable information.
Centralise Data
With the use of a project management tool; project users can keep all project documents and files in a single shared location which will manage naming conventions, versioning and meta data.
All contributors will have access to the latest data whilst being able to investigate what updates were made and why they were made.
Many advanced project management tools have an embedded proofing tool which allows approvers to suggest edits and approve work within the PPM tool itselfUsing a PPM tool we now have a single source of truth for all project files which allows managers to report on and track deliverables easily.
3. Monitoring
Given the current working situation and the shaky economic climate; monitoring becomes a key priority now more than ever. There is an increased pressure on managers to track projects at a detailed level. With the current economic downturn and looming recession; organizations cannot afford unwarranted costs or project delays which will impact the return on investment and in turn negatively affect the organizations balance sheet. Within such an unstable economic climate; even a single day delay could potentially be a loss of many thousands of pounds.
Reliable Reporting
A key functionality of any good PPM tool is reporting. PPM tools can be configured to extract real time information about your on-going projects
With a single click information can be extracted and dispalyed within a visual dashboard.
With up to date and reliable information can notify managers when urgent action is required or get simple view of project health.
The notification systems within the PPM tools will allow managers and users to keep track of their upcoming/overrun tasks and deadlines.
Project management tools like Workfront or ServiceNow PPM will help you to manage working from home in an efficient way and can give employees the information and tools to maintain their productivity levels. In the current global pandemic and enforced work from home policies, tools and systems start to matter more because they now form the foundation for communication in your organization. You need to adapt processes and implement tools to build your "virtual office"
With the use of a PPM tool such as Workfront, ServiceNow PPM etc. you now have a central application to share ideas, create content and manage complex work processes. PPM tools simplify and orchestrate a team's tasks and milestones regardless of where your team is located. PPM tools helps organizations operate with more precision and accuracy, allowing people to do their best work. By centralizing all work in one system, teams can move faster, identify potential roadblocks, and deliver work on time and on budget. Whether it be COVID-19, new work from home policies or other reasons transforming your enterprise— PPM tools can help you connect your people, optimize your processes, manage your value chain and adapt the way you work to not only maintain business as usual but also futureproof your organization for success.
If you have enjoyed this read; stay tuned for the next article in the series which addresses the adoption of such tools and the challenges faced from moving from an unstructured but flexible environment to a more efficient and collaborative environment … Coming soon